Welcome to The Weird Wild Realm
of Paghat the Ratgirl's Movie Reviews Website
Click on the Daigoro's Tongue to Get To
The Index of Paghat's Film Reviews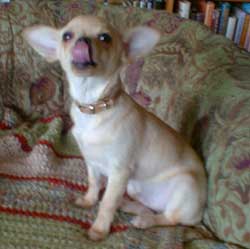 Daigoro the Miniature Mastiff has several nicknames
including Mr. Smudgy the Joyful Boyful, Diggidy Dawg,
Doggidy-doo, &amp occasionally U. Chode.

Daigoro is the kindest, gentlest, &amp most
beautiful doglet on the planet. By comparison
everyone else's dogs are crummy.

And he understands human words so well it's spooky.
We have to be careful not to mention the Car, or
going Outside, unless we are prepared to live up
to what he will instantly perceive as a promise worthy
of leaps of wild excitement.

Oh, &amp he can do trick! Singular. He can dance at
command, if there's a dog cookie in it for him.

Just like his mommies Paghat the Ratgirl &amp Granny Artemis,
Daigoro is a huge film fan, &amp will sit quietly for hours
watching samurai films, horror films, foreign &amp
independent art films, &amp ultra crappy exploitation films.

Dogs became domesticated by watching the firepit's flames
alongside cave families. Dogs are to this day natural
couch potatoes.

copyright © by Paghat the Ratgirl

You are Visitor Number WOOOOOOH! LET ME OFF!